The Cave by the Sea

Inspired by the Cornish landscape, 'The Cave by the Sea' is our second project for which we created a dining experience in a cave. We were particularly interested in artists' relationship to nature throughout this project. Each detail of the meal, from the location of the table, to the textures of the food, to the colours of the leaves are informed by the Cornish environment. After foraging, documenting, planning and creating we photographed the three course meal at Perranporth beach.
This project is inspired by the element 'Water'
The two us spent over a week exploring many beaches on the North coast of Cornwall trying to find the right location for 'The Cave by The Sea.'
Starter: Layers of the Earth
Inspired by the Cornish coast, the starter depicts the layers and textures of the earth.
The terrine is made with foraged nettle, rainbow chard and garden leeks accompanied with gorse and Cornish cheddar white sauce and pickled wild garlic buds. The terrine is enveloped in a courgette weave and enclosed in a wreath of fir, kidney vetch, seaweed and wild garlic flowers.
Main: Life of the Sea:
Inspired by the spirit of the sea, the main course depicts the life of the sea bed.
Lemon grilled sea bass with new potato crisps and slow roasted garden tomatoes, dressed with salmon roe, pickled onion, cured goose yolk, wisteria petals*, rocket flower, forget-me-nots, nanohana, crown daisy, camomile, cornflower, lemon and dill. Foraged samphire and cucumber shapes. Seasonal edible flowers decorated the fish: bronze fennel, chervil, cornflower, dill, elderflower, fennel, London pride*, nasturtiums, phlox, dill, primulas, scented geraniums, sweet wood ruff, Viola, wild rocket and strawberry flowers.
Side dish:
Scallops with homemade cow parsley and sansho butter, seared and dressed in pennywort and cow parsley, which accompanied the main course.
Dessert: Pebbles and Rocks
Inspired by the assorted shapes of pebbles at Perranporth beach and the sea anemones that latch onto the rocks.
Charred walnut, pumpkin seed, orange zest, Cornish chocolate and local honey nougat with blackberry, apple, Cornish lemon, honey and Cornish mead jewels.
Floral 'pebbles' made from sorrel, coastal moss branches, purple aster, rhodanthemum, hosmariense and waxlead privet.
To drink: Foraged sloe gin and elderflower fizz decorated with elderflower blossom.
Sloe gin made previously by filling a sterilised glass bottle with washed and pierced sloes, covered in a third of its weight in sugar and gin, and left for three months.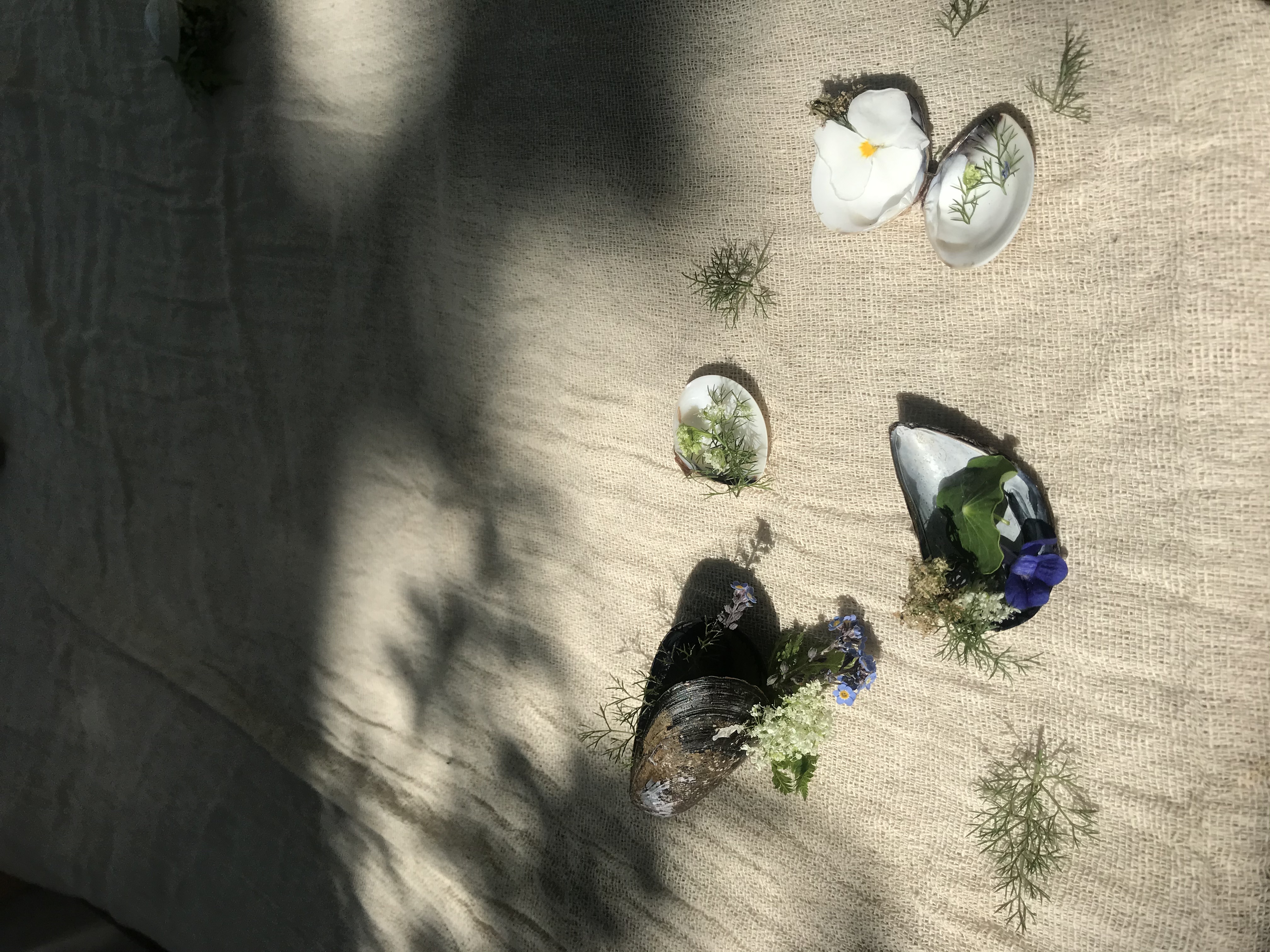 Table decor:
Using shells that were repurposed from seafood brought from a local fishmonger, we wanted to create table decorations that combined all elements of our meal: food, flowers and the environment. The flowers used are thus edible and picked locally.
The flowers are: bronze fennel, chervil, cornflower, dill, elderflower, forget-me-not, London pride*, nasturtiums, phlox, primulas, scented geraniums, sweet wood ruff and wild rocket.
Floral mobile:
We created a floral mobile that was hung at the entrance of the cave above the dining table. It was constructed using fishing line and metal bars as the frame. The mobile was balanced with cow parsley, elderflower, false oat-grass, forget-me-nots and wisteria. To create a chandelier-esque feel and frame the space.
Location:
Perranporth beach at low tide.
Photography assistant and many thanks to: Grace Davies and Ben Dickinson




*Always be cautious when foraging plants, research before eating !