Island Dreams
This is our collaboration with print fashion designer
Crimson Rose
. The collection 'Island Dreams' is particularly inspired by blissful summers in the Mediterranean. We were motivated by the use of colours in Crimson Rose's designs which combine fresh prints with bold colours: verdant greens contrast amours pink and sea blues.
We designed three courses using fresh Mediterranean-style flavours with colourful florals. Each course was inspired by the corresponding item of clothing worn in the images, as well as the nostalgia of warm holidays and bliss comfort.
The starter, 'Colours in the Countryside':
Velvety purple potatoes with feta and beetroot whip and pea, pistachio and mint pesto; garnished with chives and pansies. Accompanied by slow roasted salt baked beetroot.
The arrangements in the vases are Areca palm, Asparagus fern, Celosia, Gerbera, Leucadendron and Monstera leaves.
We were inspired by bursts of fresh colours in dry and hot climates and thus contrasted the dress against loose linens.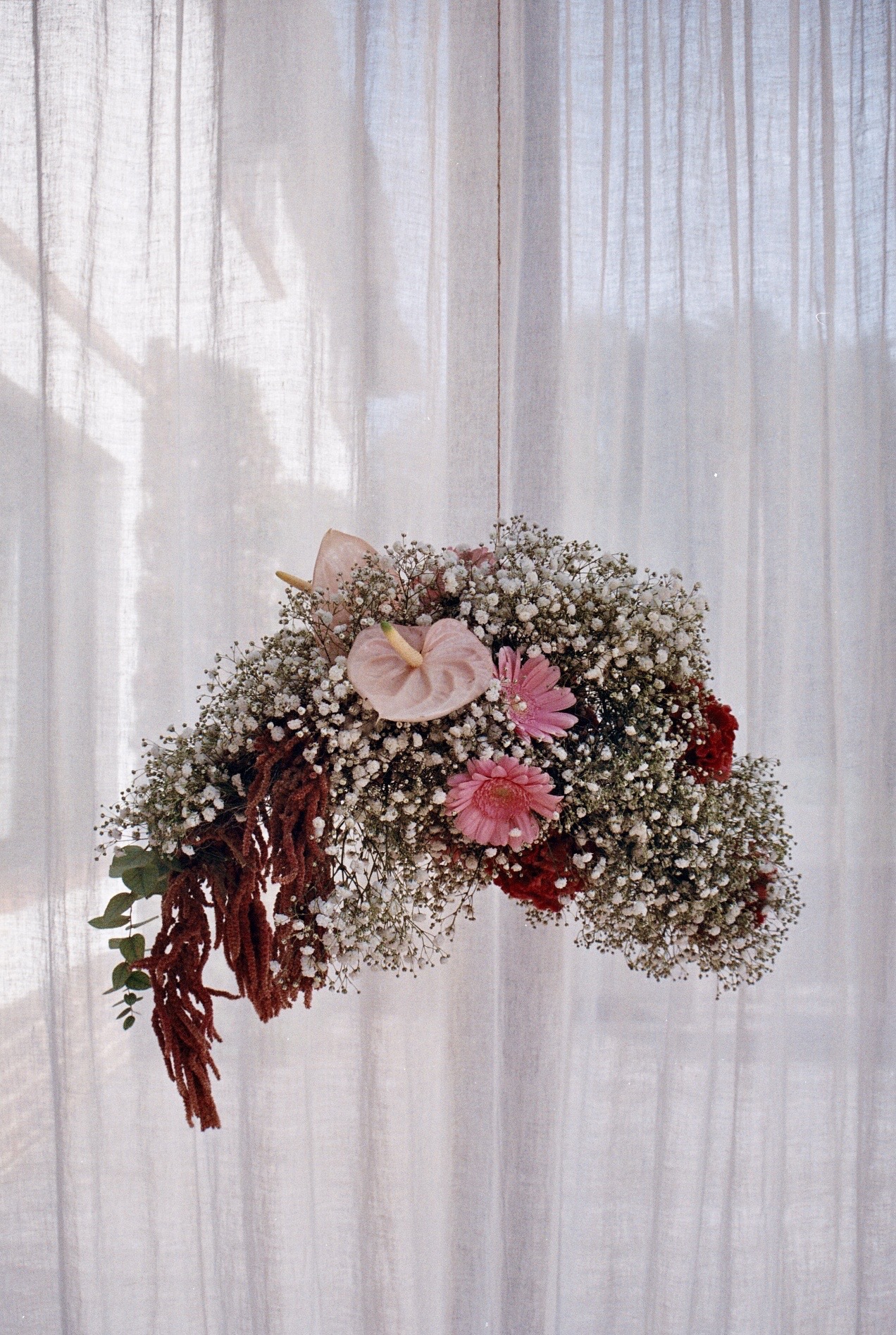 Main, 'Tomato Vines Drying in the Sun Beside the Sea':
Pan fried prawns with grilled Mediterranean vegetables marinated in sun-dried tomato, salted lemon and three chilli vinaigrette. We hung the prawns with the black olives, red onion, yellow peppers, padron peppers, tomatoes and dried herbs on garlands.
Hung with a light floral cloud of Amaranthus, Anthurium, Celosia, Eucalyptus Gerbera and Gypsophila.
Inspired by the traditional method of sun-drying tomatoes in the sun and the soft, sunset-like, contrast of the pink and white on Crimson Rose's long sleeve top.
Dessert, 'City Citrus Blossoms':
Lemon meringue with Cointreau and orange sauce and Lavender cream. It is decorated with blackberries, figs, oranges, pomegranates, cornflowers and sorrel leaves and encircled with
Chrysanthemum, Gerbera, dried Lavender and Solidago. Kay holds a fan made of hand-dyed pampas grass.
Inspired by cooling shade in sweltering summer; for the dessert we were excited by the playful print of the matching set and the bountiful fruits grown in the Mediterranean.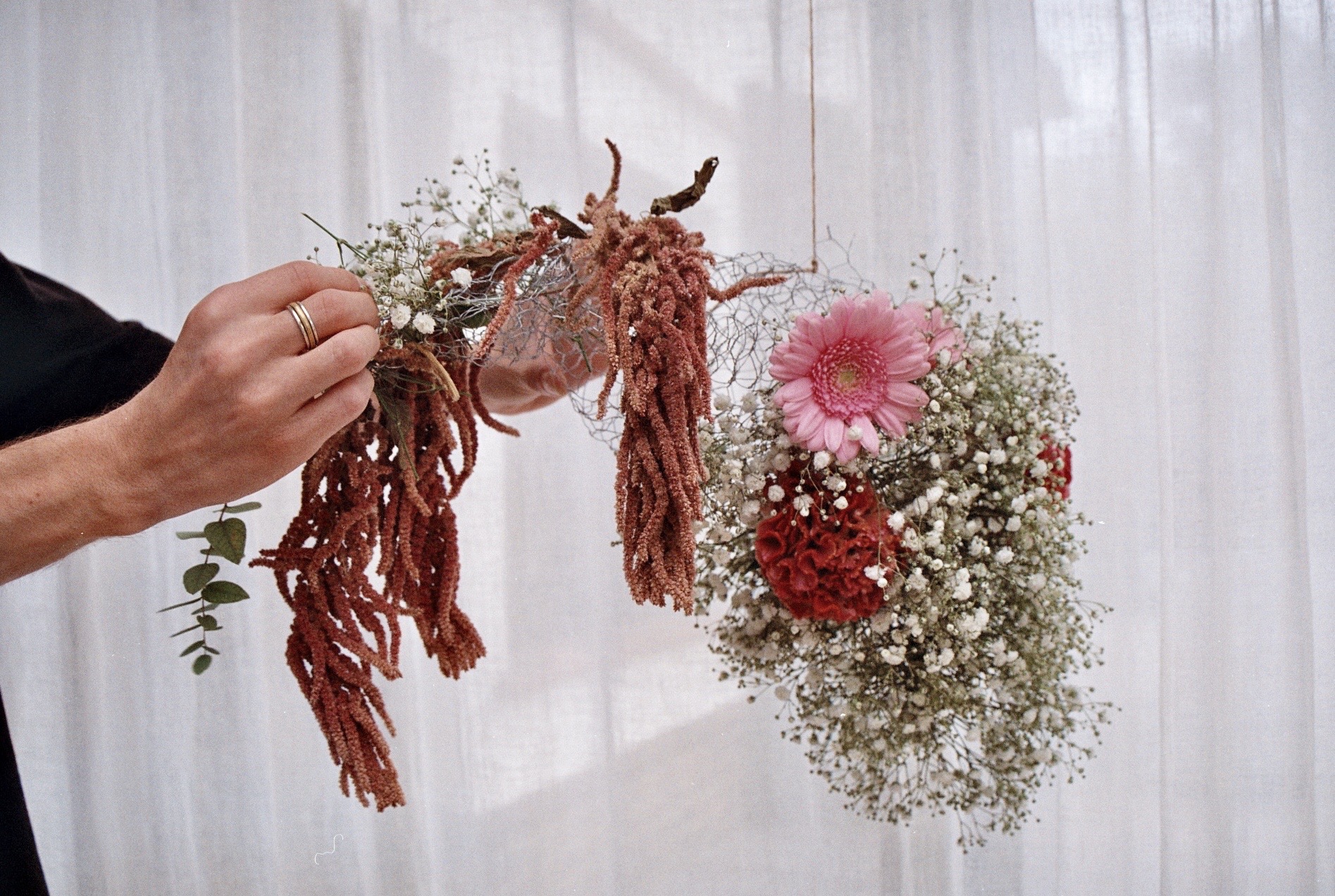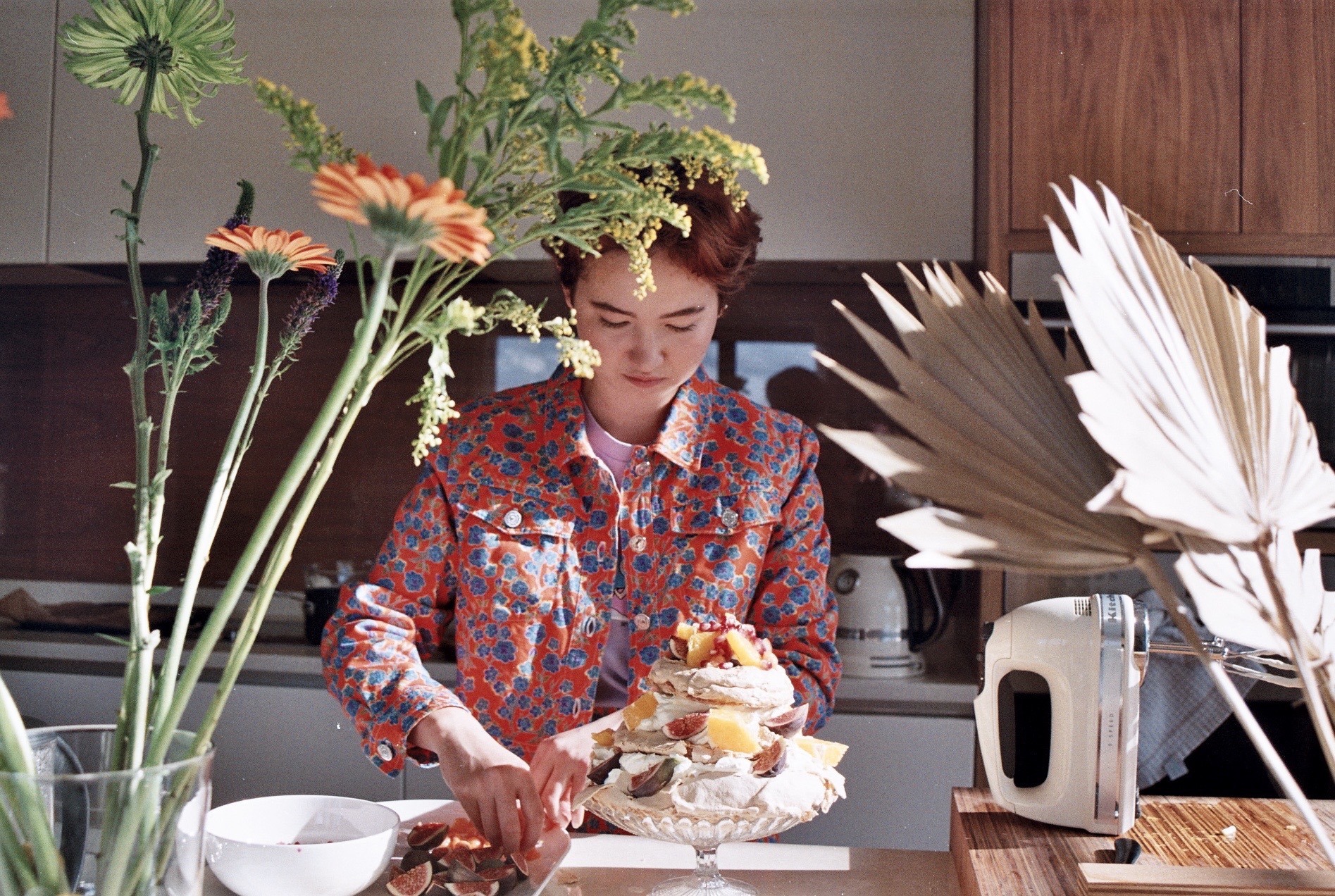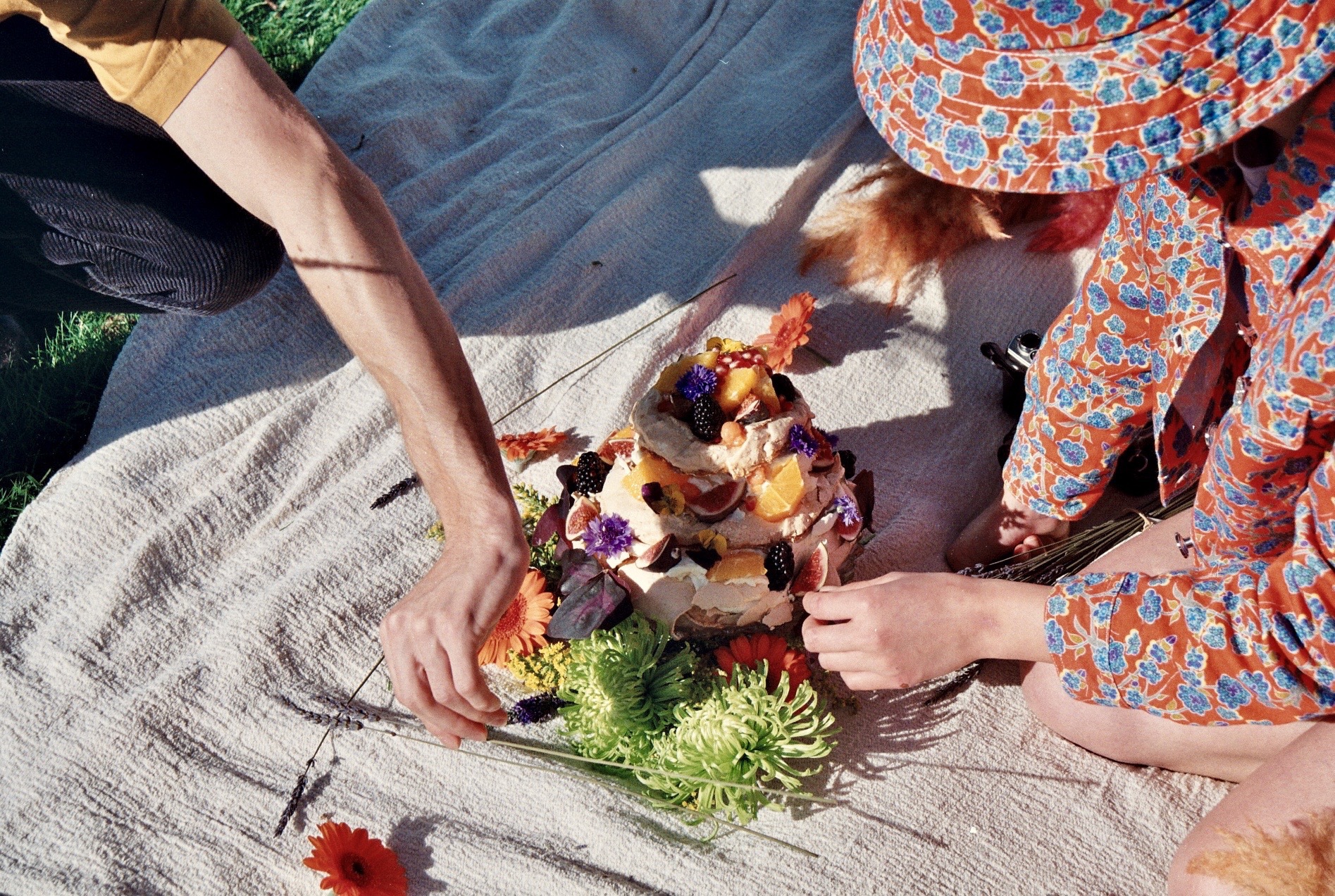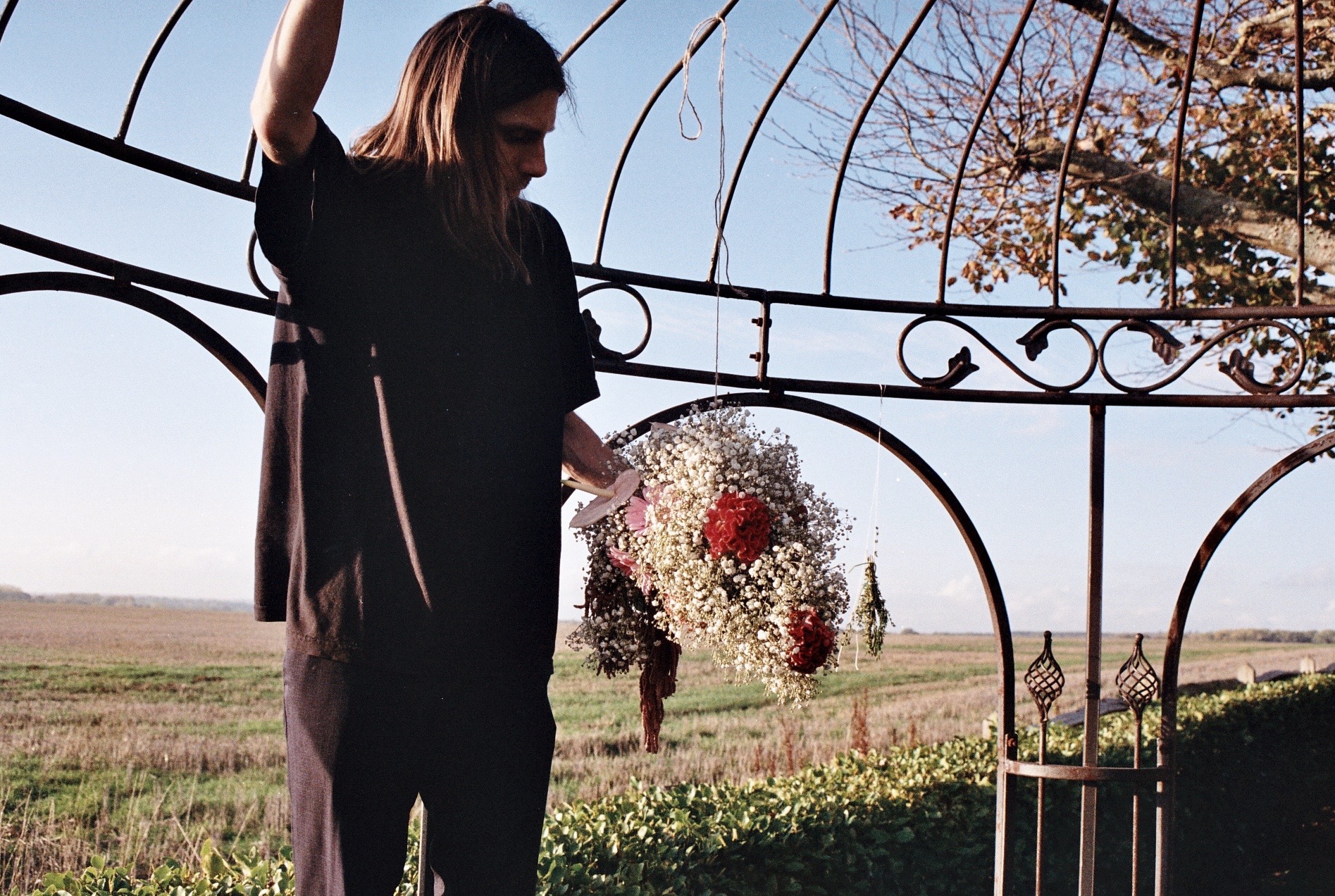 To us, the process is as important as the final outcome. We aim to carefully plan and experiment with food and flowers to find suitable combinations so that each element of the menu and set design reflects our original inspirations. We take the initial idea and then research and experiment until we have made an exciting plan; this process usually involves practice shoots, exploring set locations and a lot of bouncing of ideas between the two of us. Generally, we are inspired by nature, the senses and creating tangible atmospheres through our work. When we work with other creatives we are eager to find out the themes, memories and environments that motivate them, so we can include this in our process.
Photography assistant and many thanks to: Grace Davies